"I Won't Forget Your Name And You Won't Forget Mine"
Areas of Practice


I have over 30 years of experience serving as an effective advocate at the negotiating table and in court. Years of experience before judges and juries have provided me with the knowledge and thorough understanding of the skills necessary to be successful in jury selection, court procedure, and the presentation of evidence. Every personal injury case or wrongful death case that I handle is prepared as if it is going to trial. Thorough preparation and aggressive advocacy frequently enables me to help clients reach a successful resolution with the opposing lawyer through negotiation, mediation or other forms of Alternative Dispute Resolution (ADR).

Client Service

My clients receive the kind of hands-on, personal attention that is rarely available from larger firms that stress the quantity of cases, and not the quality of care and commitment that every injury victim and his or her family deserves. I listen to my clients, return phone calls, and talk in plain English. When clients call my office, they get me-not a first year associate attorney or somebody else who needs permission to give advice. My goal is to help injury victims and families design a successful strategy for physical, emotional, and financial recovery. My clients receive:

Free initial consultation with an experienced personal injury lawyer
In home visits if requested

Over 30 years of legal experience in personal injury law
Toll-free access at 1-888-995-7554; local (501) 375-7575

Seasoned and courteous staff
Financial resources to achieve a just resolution of your claim

Contingency fees - no recovery - no fee
Convenient office location in Little Rock
Licensed to practice law in Arkansas and Missouri
I have worked with the same staff for over 20 years. I cannot overemphasize the importance of firm stability when it comes to handling your case. In addition to the attorney's proven track record, having an experienced and seasoned staff assisting the attorney is extremely important in achieving the desired outcome for a client.

Communication with your attorney is important for you to understand what is going on in your case. In addition to experience and firm stability, you need an attorney who will keep you informed and who will be available when you need to talk with him.

I am always available to answer any questions you may have about your claim. I return my telephone calls.

Moreover, I have a

toll free number

so that you can reach me from anywhere.



Results



Before you choose a lawyer, in addition to the attorney's experience, staff stability and accessability, you should also consider the attorney's proven track record. Over two million dollars ($2,000,000), one half million dollars ($500,000), two hundred fifty thousand dollars ($250,000); these are just some of the results I have achieved for my clients. While the outcome will vary in each case, depending on the amount of negligence and the extent of one's injuries, every case, whether big or small, is important to me because I want to achieve the best possible results for my clients. I want my legal experience to work for you.

The value of your claim will depend on your actions in selecting the right attorney. I charge a

reasonable percentage

of any settlement as my fee. I do not get paid unless I make a recovery. Please call me

today

at

1-501-375-7575

or toll free

1-888-995-7554

for free advice concerning your injuries and your right to compensation, or check out my website at

www.bobuckalew.com

. I will make in-home visits, plus any and all consultation is

free

. I look forward ot hearing from you.

Firm Location

The Buckalew Law Firm

, whose address is 300 Spring Building, Suite 320, Little Rock, Arkansas 72201, is located at the corner of 3rd and Spring in Downtown Little Rock. The firm can be accessed off of highway I-630 by taking the Broadway Exit and proceeding North on Broadway 7 blocks until you come to 3rd street. After taking a right on 3rd Street, go one block and you will be at the corner of 3rd and Spring. The 300 Spring Building is located here and my office is on the 3rd floor in Suite 320. See the Map below: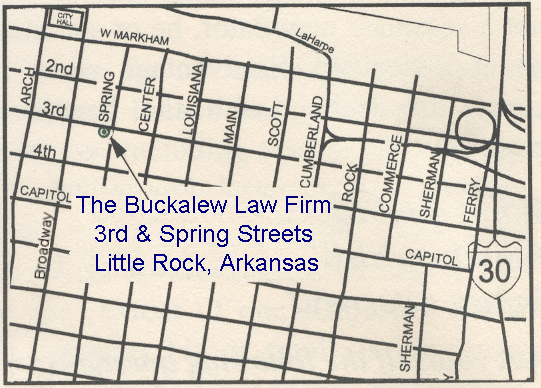 If you've been injured or if death has resulted from a personal injury accident in the State of Arkansas, I can help. My office is located in Little Rock, Arkansas and I represent clients throughout the State of Arkansas. Call the attorney with a proven track record, one who has the experience, financial resources and seasoned staff to get you the maximum compensation you deserve. For immediate assistance,
contact
Bob Buckalew
today at:
(501) 375-7575
or toll free at
1-888-995-7554
300 Spring Building
Suite 320
Little Rock, AR 72201
Web Site:
www.bobbuckalew.com
e-mail address:
rbuckalew@bobbuckalew.com
Let me uphold your rights and secure for you the highest available award.